UM IEP Spring 2021 Online Short Courses
These courses are designed for intermediate to advanced level English speakers, and they are both non-credit and non-intensive.  Upon completion of each course, students will receive a signed certificate of completion from the University of Mississippi Intensive English Program.
NOTE: At this time, we are only able to offer online courses to residents in the following countries: Bahamas, Bangladesh, Brazil, Bulgaria, Canada, Costa Rica, Czech Republic, Egypt, Germany, Ghana, India, Iraq, Israel, Italy, Japan, Malaysia, Mexico, Myanmar, Nepal, New Zealand, Nigeria, Norway, Russia, Senegal, South Korea, Sri Lanka, Sweden, and Vietnam
Synchronous Instruction + Asynchronous Activity Courses:
The January 18-March 12 courses are 8-weeks in length, and we anticipate the amount of effort to be approximately 5 hours each week, for a total of 40 hours for the course.
The cost for each course is $500.  A non-refundable $50 deposit is due at the time of application.  Payments may be made in installments.  The balance is due by the end of the first day of the course. For information about our policies and procedures for the online short courses, see this page.
The application deadline for Spring 2021 Online Short Courses is January 8, 2021.
Click here to apply.
Course Descriptions:
Reading Strategies for Test-Taking (40-hour course,  January 18-March 12, $500)
The goal of this course is for participants to familiarize themselves with the academic readings found in standardized tests (e.g., iBT TOEFL, IELTS) and test taking strategies needed for the reading portions of those types of tests. Instruction will include how to understand academic readings on tests, reading strategies, test-taking strategies, and practice tests. Reading speed and fluency will also be addressed. By the end of the course, participants will have a better understanding of the types of readings found on standardized tests and the strategies needed be more successful when taking those types of tests.
Conversational English Skills(40-hour course, January 18-March 12, $500)
The Conversational English course prepares students to improve the ability to communicate effectively in a variety of situations.  Students work on speaking, listening, and pronunciation skills using a variety of innovative online tools to help students learn, interact, and engage in the topic.  This course will combine online group instruction, multi-media resources, and relevant exercises in instruction and provide students with useful resources to continue their learning.
Culture of the American South (40-hour course, January 18-March 12, $500)
Culture of the American South is an integrated skills English course covering aspects of the American South that include history, music, folk art, literature, and lifestyles. Students will also have input on topics of interest.  Students will strengthen their English language skills in discussions and written reports about the American South, including comparing the American South to their home country. By the end of the course, students will have a better understanding of the culture of the American South and a wider knowledge of their own unique culture and global experiences.
Introducing!— Live-only virtual meetings for conversational English practice.  5-week course, 4 hours of live virtual meeting per week (2 meetings).
Guided Conversational English Practice (20-hour course, January 18-February 19, $300)  
Students will meet virtually 2x each week with their instructor and classmates to engage in guided English conversation.  More details to come.
Coming Soon!  IEP Hybrid Program — a combination of one or more online short courses AND a 2-week on-site cultural tour.  Contact studyenglish@olemiss.edu for more information!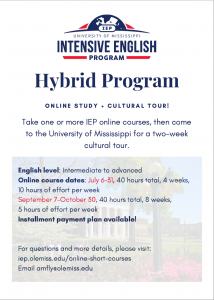 See recorded info-session  about the hybrid program here https://youtu.be/exgV8sDV8Bc?t=8
Click here to apply.